Current Offers & Promotions
Current Offers & Promotions
HOMEGUARD PHOTOGRAPHY CONTEST
At FMC we have been busy building an online education library and sending regular tech notes. Now, here is your chance to share your skills and knowledge as we would like your help to update the images and videos.
We are looking for all aspects of HomeGuard® installations with any related products, TMB, DPC, PB, GT, Collars, FlexiCollars, Protectacote, and Termiflex, and any termite related images and videos.
In return, you will be in the running to win great prizes. With gift vouchers for every photo and video selected for use and every entry going into the draw to win 1 of 5, Flir C5 Thermal Imaging Cameras, 1 drawn each month.
Shortlisted images will also be published with acknowledgments on our LinkedIn and website page.
Recommend creating landscape photos with good lighting and the use of proper safety gear.
First draw May 31st, last draw September 30th, 2022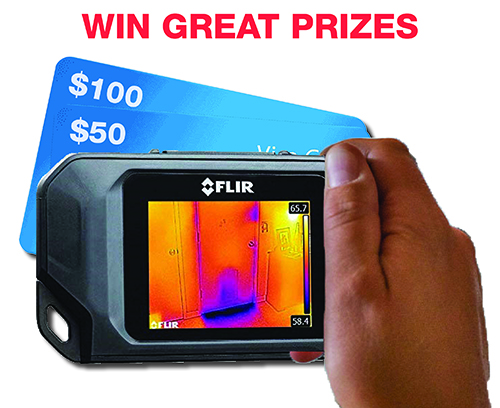 The promoter is FMC Australasia Pty Ltd (A.B.N. 45 095 326 891). of Level 2, Building B, 12 Julius Avenue, North Ryde, NSW 2113, Australia (Promoter).
FMC Australasia HomeGuard Photography competition. Entries open in April 2022 and close on 3oth September 2022. By entering this competition, you agree to receive marketing material from FMC Australasia. The entries and winners will be announced on LinkedIn and by email.
Prizes: $50 gift voucher for every photo and $150 gift voucher for every video selected for use. Every entry goes into the draw to win 1 of 5, Seek Shot Thermal Imaging Cameras valued at $1100.
Entry is open to residents of Australia within the pest control industry. Employees of the Promoter and their immediate families, suppliers, associated companies, and agencies are ineligible to enter.
Multiple entries from the same person will be accepted.
Each photographer retains copyright of his or her images, and proper credit lines will be attributed to each photographer when used in any publicity of FMC. The entrant authorises FMC Australasia to display, print, and distribute in any manner any photographs entered in this competition.
You must provide an Australian mailing address, to be eligible to receive the prize.
The entrant must be the copyright owner of any images he/she enters into the competition.
Any post-production and editing must be the work of the entrant.
The entrant is responsible for obtaining all relevant model and/or property releases.
The prize can not be bartered and is not redeemable for cash.
The prize is not transferable or exchangeable and cannot be taken as cash. No responsibility is accepted for any variation in the value of the prize.
All competition entrants must reside in Australia. Winners entering from outside Australia will be disqualified.
The Promoter reserves the right to, at any time, verify an entry or entrant and disqualify an entrant the Promoter has reason to believe has submitted an entry not in accordance with these Terms and Conditions.
The Promoter reserves the right to modify, suspend or terminate the competition without notice.
The Promoter is not liable for any loss (including loss of opportunity) or damage (including, but not limited to, direct, indirect, or inconsequential loss) or personal injury in relation to this competition or the use of, or participation in, the prize.